Address
Leibniz Universität Hannover
Fakultät für Maschinenbau
An der Universität 1
30823 Garbsen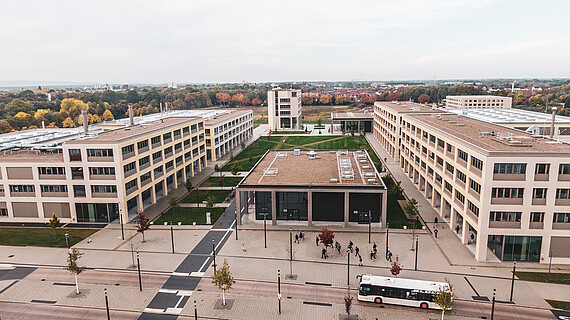 Arrival
Public transport
From Hannover main station take the lines 1, 2, 3, 7, 8 or 9 to "Kröpcke".
At the "Kröpcke" change to line 4 with direction Garbsen and get off at the stop Schönebecker Allee (previous name: "Friedhof Auf der Horst") (duration: approx. 23 min).
From the Schönebecker Allee stop, follow Schönebecker Allee in the direction of the motorway bridge. After crossing the A2, the Campus Mechanical Engineering is on the left hand side.
Bicycle
By car
Leave the A2 motorway at the "Herrenhausen" exit.
Follow the federal road B6 towards Nienburg.
Follow the main road B6 to the Café del Sol (left hand) and Möbel Hesse (right hand) and turn into the street "An der Universität" shortly after the speedometer on the left-hand turn lane.
More Information